In Australia, years of activism by unions and legal advocates have built legislation to protect us from injury (or even death) while performing our job. This is particularly important in more dangerous sectors like construction. Nonetheless, workplace health and safety is sometimes viewed as dull and choked with red tape.
The example of Qatar illustrates how vital such laws are with the migrants who paid thousands to work in death-giving conditions.
In Qatar, poor construction workers rights – drastically below Australian standards – for the migrant workers tasked with building infrastructure including stadiums, hotels and transport for the FIFA 2022 World Cup, have contributed to the deaths of potentially thousands of foreign workers.
Qatar's deadly work camps
*Sujan Miah was one of them. One of thousands in their prime to flood the country for work after Qatar was awarded the World Cup by FIFA in 2010, Sujan borrowed 300,000 Bangladeshi taka (approximately AUS $4,860) for a work visa. A mandatory medical assessment showed the then 29-year-old was in good health prior to leaving.
On 24 September 2020, Sujan's family in Bangladesh received a call from one of his workmates notifying them of his sudden death – in his sleep. He was 32 years old.
In the four days prior, Sujan had been working outdoors as a pipe fitter in the desert in extreme temperatures exceeding 40°C (heat discomfort is felt at 30°C) and sleeping in conditions mostly above 30°C. Despite the well-known risks of heat-stroke, no autopsy was conducted. His official death certificate states he died from "acute heart failure due to natural causes."
Sadly, Sujan is just one of at least 6,500 migrant workers the Guardian estimates have died in Qatar since it won the right to host the World Cup.
Lack of accountability
Investigation by human rights watchdogs and media outlets show most of these fatalities have been poorly explained. Families remain uncompensated with bogus death certificates removing any culpability on the behalf of authorities.
Data from government authorities (reported by the Guardian in 2021), found 69 per cent of the deaths of workers from India, Nepal and Bangladesh between 2008 and 2019 were blamed on 'natural causes' or acute heart or respiratory failure. Scant other details were provided.
As explained by Dr David Bailey, a leading pathologist and member of the World Health Organization Working Group on death certification (interviewed by Amnesty International): "These are phrases that should not be included on a death certificate without a further qualification explaining the underlying cause. Essentially, everyone dies of respiratory or cardiac failure in the end and the phrases are meaningless without an explanation of the reason why."
Disputes over deaths
Getting to the bottom of the true scale of construction deaths due to poor work conditions is a mammoth task. Construction deaths, for example, only account for a percentage of total foreign worker deaths and no job information is tied to death records. A lack of transparency, recording, clarity, investigation and accountability by the Qatari government further hinders the process. Varying accounts of figures also exist.
Qatar's government maintains that the fatalities are proportionate to what would normally be expected within the size and demographic of the population. Experts counter with the fact that the mostly young workers arrived in good health – as proven by mandatory medical exams.
Fried to death
What's undeniable: the extreme heat and humidity of Qatar – located on the Arabian peninsula into the Persian Gulf bordering Saudi Arabia – is a well-known occupational health threat. This is particularly true for those performing strenuous work outdoors in hot months.
A 2019 study published in Cardiology – focused in on 571 cardiovascular deaths in Nepalese migrants working in Qatar (main age range 25 to 35 years) between 2009-2017. 58 per cent of deaths occurred during the hot season compared to 22 per cent in the cool months. The researchers estimated about 200 of the 571 deaths could have been prevented with proper heat protection and OH&S safety plans.
In Qatar, outdoor work is banned during certain hours of summer between 15 June and 31 August. Bowing to international pressure, in 2021, the ban was extended from 1 June to 15 September. Other new measures included prohibiting outdoor work when the heat and humidity index reaches 32 degrees, and giving workers the right to self-pace.
As human rights agencies have argued, a more effective solution are 'mandatory' breaks. The power imbalance between Qatar's migrant workers and their employers means the notion of self-pacing is meaningless.
Abusive working conditions and no way out
The estimated two million foreign workers in Qatar (ninety-five percent of the country's workforce) mostly come from vulnerable populations of Asia and Africa, including Bangladesh, India, Nepal, Pakistan, Sri Lanka, the Philippines, Kenya, and Nigeria – and work within the construction, hospitality and domestic services industries. Many have paid huge upfront recruitment fees.
Under the widely criticised "Kafala" system, migrant workers must enter the country via a sponsor – typically their employer, who usually hires them through a private recruitment agency. The sponsor is responsible for their work residency legal status, and generally covers their travel to the country and housing (usually squalid dorms). They control the workers ability to exit the country or change jobs. It's a level of power that has enabled wide-scale worker abuse and exploitation.
As reported by Human Rights Watch (in 2022), **Henry, an anonymous Kenyan migrant worker, described life in the land of his dreams, a nightmare.
Along with delayed wages (typically paid every three months), non-payment of overtime and twelve hour working days, Henry has endured sub-standard housing, sharing a bedroom with five to 10 other men. At the time of his interview, six months after starting work, he hadn't enjoyed a single day off. Nor had he been issued a Qatar Identity Card, mandatory for migrant workers: meaning he could be arrested for leaving his house. The mental and physical toll of exploitation, oppression and working in heat is taxing.
Underpaid, overworked, in debt and forced to continually borrow money while he waits for his wages (about $18.59 AUS a day or $557 a month), he feels trapped. For those who complain, retaliation (including non-payment of wages, eviction and deportation) usually awaits.
Mounting international pressure brings reforms, but ….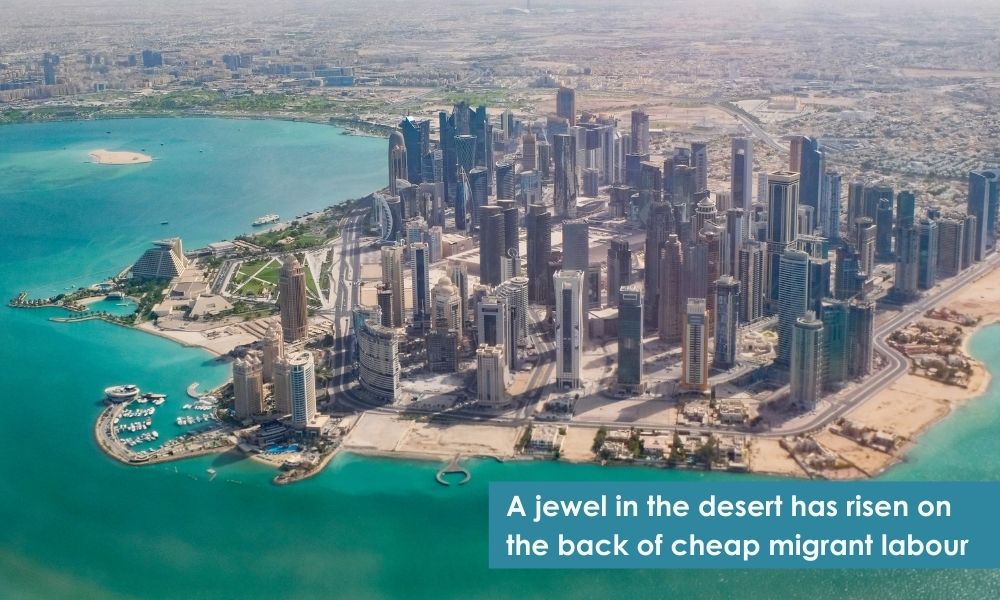 International pressure has started to improve things for migrant workers in Qatar. Reforms (introduced September 2020) allow them to change jobs or leave the country without obtaining their employers agreement. A minimum monthly wage of $1,000 riyals ($375 AUS) has been established for all workers. Other measures include small, minimum food and accommodation allowances.
While welcome, the reforms are far from enough.
Harsh penalties (including detention, deportation and fines) still exist for workers deemed to be 'absconding' from their position. Joining a trade union remains illegal. Importantly, the abusive Kafala system remains intact, and combined with recruitment fees, continues to trap migrant workers in slave-like conditions.
Human rights organisations want control over visas and work contracts to be removed from employers and placed in the hands of government; the act of absconding decriminalized; and more.
Australia not perfect either
As Qatar shows, working in a wealthy country is no guarantee of safe working conditions or just laws. Qatar is one of the top ten richest countries in the world (based on gross national income per capita).
While we're ahead on OH&S, deaths and injury occur regularly on the job in Australia.
Deaths in construction have been mounting since the Morrison government took over. ABS and Safe Work Australia data (reported by Independent Australia), reveal these soared from 13.9 per $100 billion of construction activity in 2013 to above 30 fatalities per $100 billion in 2020.
Time to lift our game and stop taking OH&S for granted.
* Sujan Miah is one of 18 cases investigated and documented by Amnesty International.
** Henry is a pseudonym and is one of 93 migrant workers interviewed by Human Rights Watch.