Can Artificial Intelligence (AI) save lives on our roads? The United Nations certainly thinks so. The UN believes that AI is vital to meeting their Sustainable Development Goal of halving road deaths and providing safe, affordable and sustainable transport for everyone by 2030.
According to the World Health Organisation (WHO), road accidents cause the deaths of 1.3 million people each year, with between 20 and 50 million people suffering non-fatal injuries.
The National Highway Traffic Safety Association (NHTSA) says that human error is responsible for 94% of serious accidents in the United States. AI has the potential to save lives by reducing or eliminating these accidents entirely.
With the first partly autonomous self-driving cars on the road, self-driving vehicles might be the first AI tech that comes to mind. But high costs, technology constraints, and other barriers mean it's unlikely fully autonomous vehicles will be widely available this decade.
Instead of waiting for automated vehicles to be available, regulators, municipalities and automakers should look towards technologies that are already available.
These existing AI technologies can optimise road infrastructure, improve traffic flow, enhance
post-crash response, and monitor driver health and alertness.
Detecting drowsy and distracted drivers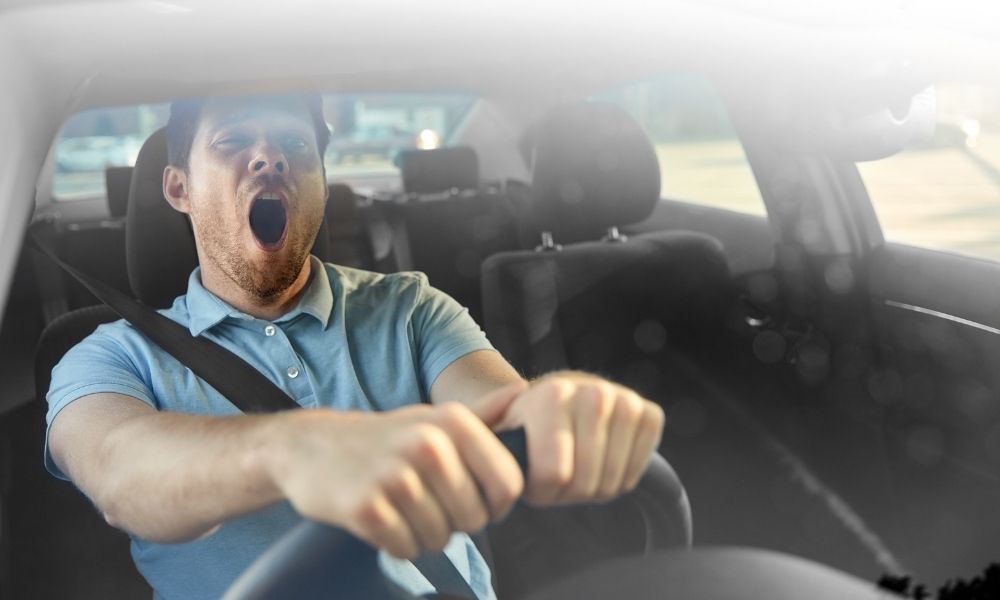 Truck drivers spend long periods on the road, hauling heavy cargo at high speeds along long stretches of highway where accidents are a regular occurrence. Distracted or drowsy truck drivers are at risk of poor split-second decision making that can lead to serious accidents.
Many of us have dashcams in our private vehicles, but KeepTruckin has gone one step further. They have built a camera system that harnesses the power of AI to evaluate risks and prevent incidents before they occur.
KeepTruckin's cameras capture incidents on the road and use advanced algorithms to alert drivers and fleet safety departments about unsafe driving.
Risk factors such as driver fatigue, mobile phone usage, and seat belt use are recorded and reported. The video is analysed in real-time to provide a DRIVE (Driver, Road, Imaging, Vehicle and Environment) risk score which is linked to potential accident severity.
By introducing this software, KeepTruckin hopes to improve the safety of individual truck drivers and provide management with a comprehensive view of their performance.
Optimising traffic flow and reducing congestion
As well as being employed in individual vehicles, AI technology can also be deployed at the road network level to create safer, more efficient roads for all users: drivers, cyclists, and pedestrians.
Teledyne FLIR has developed a suite of products that together predict and optimise traffic flow to minimise congestion and reduce accidents.
FLIR's thermal heat sensor based ThermiCam and low-light high-definition TrafiCAm can be placed alongside roads and at intersections to capture real-time data and vision to assist traffic controllers in improving flow and safety.
Providing continuous monitoring in all weather, light and atmospheric conditions, FLIR's cameras can be combined with their Acyclica cloud platform to apply AI learnings to traffic patterns for safer, more efficient roads.
This integrated solution allows traffic engineers and city planners to not only make roads safer, but to make cities more liveable.
Enhancing road infrastructure improvement.
As well as alleviating congestion and optimising flow to reduce accidents, AI can also be used to help cities to make improvements to road infrastructure.
Japanese automaker Honda is partnering with the Ohio Department of Transportation to pilot a program that uses its cars to collect data about road hazards as soon as they occur.
By using a system of cameras and location services, Honda can capture real-time, geo-tagged information about damaged roads or faded lane markings. This information is sent directly to authorities to assist them in directing road work crews to perform repairs.
As part of their target of zero fatalities by 2050, Honda is also working with mobile carrier SoftBank to develop a system that connects drivers, cyclists and pedestrians through the telecommunications network. Information gathered from cameras both in-cars and located on roads can predict dangerous conditions and alert drivers.
Injury prediction for first responders
When first responders arrive at the scene of an accident, they must assess what has occurred and the severity of injuries sustained. With occupants often the only witnesses, crews must sometimes make life-and-death treatment decisions with limited information.
AI is now being used to help first responders better understand potential injuries and to ensure patients are given the targeted medical treatment that they require.
Car manufacturers including Volvo and Hyundai have invested in Israeli start-up MDGo's injury prediction technology, which uses existing car sensors to assess potential injuries.
MDGo uses an algorithmic model to process accelerometer data to assess speed, positioning, and impact angle. This data can measure the impact force on occupants, and their likely injuries. An accident report is then sent via a cloud-based platform to emergency personnel to provide the required treatment.
As well as helping to predict difficult to diagnose internal injuries, MDGo's system can also help emergency services to deploy resources where they are most needed.
For example, life-support units are often sent to roll-over accidents, when data shows these often occur at low-speed and may not require life-support services at all. With MDGo's AI system, injured people aren't always sent to the nearest hospital—but rather afforded the care most appropriate for their injuries, freeing up resources for where they are most needed.
Monitoring driver health in real-time
AI technology can also be used to identify health events as they occur to give drivers the medical attention they need and to prevent accidents caused by health problems such as heart attacks.
This is already happening: in 2016 a Tesla driver suffered a pulmonary embolism (when the arteries in the lungs become blocked by a blood clot) while driving on a Missouri highway.
Instead of pulling over and calling for an ambulance, he manually rerouted the cars autopilot to take him to the nearest hospital. The autopilot feature undoubtedly saved his life.
Korean car-part maker Hyundai Mobis has developed M.Brain, a healthcare technology that measures driver's brainwaves to assess their health. Machine-learning interprets these brainwaves to understand what they mean, and what type of action is required. The system is being trialed on public bus services in Gyeonggi Province surrounding the capital Seoul.
This isn't Hyundai Mobis' first foray into using AI to monitor health risks. In 2020 they unveiled an in-cabin safety monitoring system to alert drivers if an adult, pet or child remains in the car, a system which could eliminate the nearly 50 children who die after being left in vehicles in the United States each year according to the NHTSA.
Not yet the silver bullet
While AI promises to play a critical role in meeting the UN's target of halving road deaths by 2030, it isn't the silver bullet—yet.
There are still ethical and privacy questions which remain unanswered, while widespread adoption of supporting technologies such as the digitisation of road signs and 5G network development are required to support AI to its maximum potential.
Nonetheless, the criticality of AI is underlined by the development of the 'AI for Road Safety' initiative that brings together UN Special Envoys for Road Safety and Technology and the International Telecommunication Union (ITU) and calls for the rapid development of AI to make driving safer.