The popularity of cycling in Australia rocketed in 2020 during Covid-19 lock downs but comes at a time in which fatal cycling accidents doubled in the three years leading to 2020.
While most drivers here in Queensland try and do the right thing by giving cyclists space, it generally doesn't take too long to experience some intentionally aggressive or distracted drivers while cycling on the road.
While nothing is going to make cycling completely safe, here are some interesting innovations from recent years designed to make cycling that little bit safer.
Dash cams for cyclists
Dash cams have become an ever more useful tool for proving liability in car accidents and the same now goes for cycling.
The clear leaders in cameras for bikes are the Aussie firm Cycliq who first launched the Fly6 HD camera and rear light via a successful Kickstarter campaign in 2014.
After several versions they are now selling their 3rd gen rear light and cam, the Fly 6 and a new version of the front light and cam called the Fly12 CE.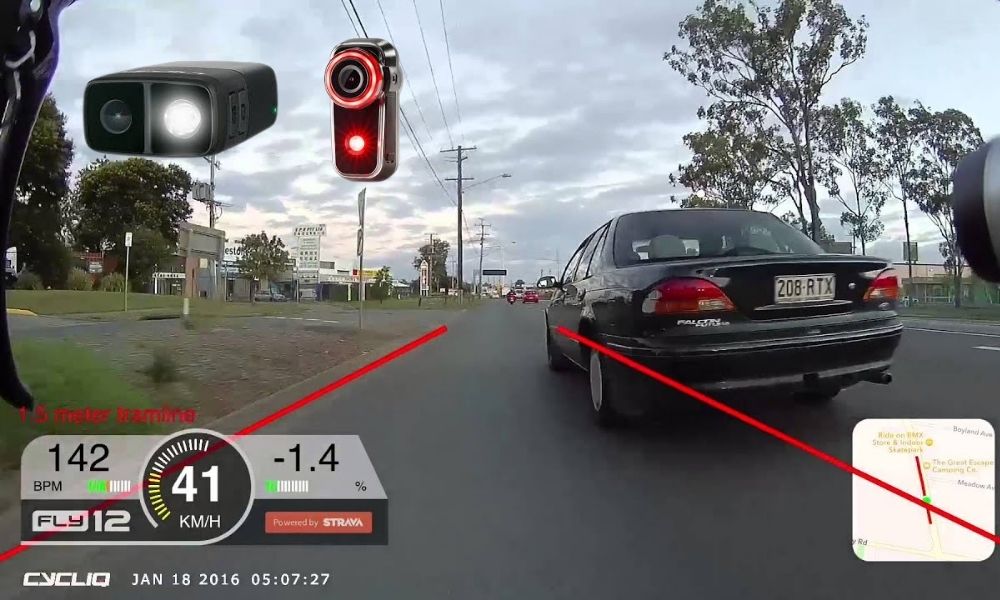 The camera's have some nifty features including:
Video shows 'tram-lines' to mark safe passing distance. This provides some good evidence to report drivers who failed to provide the legal passing distance. In Queensland, the cyclist passing rules for drivers mean motorists must leave at least 1m in 60km/h or less speed zones or 1.5m whenever the speed limit is over 60km/h.
Wide angle high-res video captures number plates.
Crash detection locks and protects video recording after an incident - this prevents recordings getting written over by accident.
Be seen before you are seen with lasers
One of the biggest causes of cycling accidents with cars and vehicles is when a vehicle turns left at a junction into the path of a cyclist it didn't see. This is especially common with trucks and buses which have larger blind spots and have the potential for serious or fatal road accidents to occur.
Back in 2012, British inventor Emily Brooke introduced a Laserlight to help solve this issue with a bike light that projects a green cyclist onto the road day and night using lasers to give drivers a heads up that a cyclist is coming or may be in their blind spot.
The green laser projections are a common sight on London's roads as they are fitted to all 11,500 Santander share bikes which is the equivalent of Brisbane's soon to end CityCycle scheme.
Now they've released a more affordable version of their laser light called LaserLight Core.
Eyes in the back of your head with bike radar
Vehicles approaching cyclists can often see them from hundreds of metres away but for cyclists the warning of an approaching car is often minimal.
An innovative product that aims to fix this is Garmin Varia, a rear bike light with built-in radar.
The Garmin Varia RTL515 radar tail light provides audio and visual alerts for cars approaching from 140 metres away which allows time for the cyclist to look back and ensure they are safely positioned on the road.
The radar light can either be paired with a compatible Garmin GPS device mounted to the handlebars or to a smartphone app which provides the visual alerts of approaching vehicles.
One limit of radar is that it can't accurately detect the type of vehicle approaching. As machine learning image recognition advances and 5G coverage increases it will be interesting to see if companies such as Cycliq can integrate features that would provide warnings based on machine vision analysis of what type of vehicles are approaching.
Signal your intentions with smart helmets
There have been a few attempts at bringing indicators to bikes over the years from clunky low-tech solutions with lots of wiring to some neat innovations such as cycling gloves with LED turning lights but nothing has really gone mainstream.
A company striving to change this through smart cycling helmets is Lumos. Their latest product, the Lumos Ultra helmet is the most funded cycling accessory in Kickstarter history having raised close to $3 million USD from over 24,000 backers.
The affordable and lightweight helmet has a few innovations aimed at taking cycling safety to the next level including;
Built in front and rear lights (rechargeable via USB C)
Rear turn signals - using a wireless control on your handlebars or motion from an Apple Watch, you can activate left and right turn signal lights in the rear of the helmet.
Automatic brake lights - an upgraded option allows for brake lights to be automatically shown when slowing down.
Optional 'Mips' protection to reduce rotational force of impacts - this provides a low-friction lawyer within the helmet and is designed to reduce the odds of serious brain injuries by reducing the rotational force of the head.
The helmet is $99 USD with Australian stockist pricing not yet known.
The best helmet is not a helmet
It's pretty established that the best device to protect yourself from head injuries in a cycling accident is a helmet...right?
A Swedish company called Hövding disagrees and claims their third generation Hövding 3 cycling airbag provides up to 8 times more protection than traditional bicycle helmets!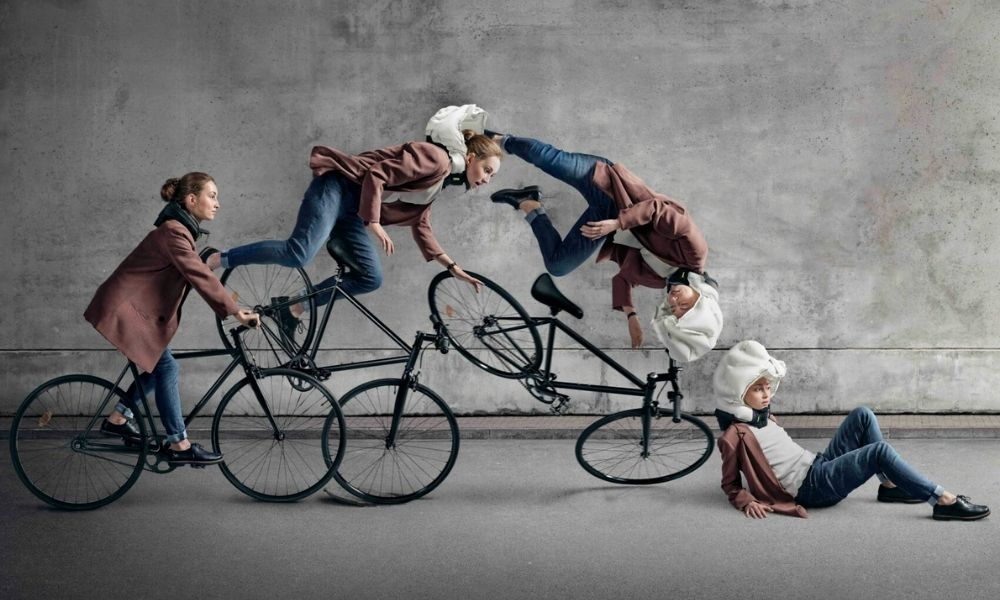 Instead of a helmet, the device which weighs around 800 grams is worn around your neck while your head remains helmet free with the wind in your hair (or on your scalp).
The device analyses your movements 200 times a second and when an incident is detected, it inflates in 0.1 seconds to create a bubble cocoon around your neck and head.
Unlike a helmet which is always 'just there', this device definitely requires a lot of trust from the wearer who may be wondering if it will or won't save them in the moment of need.
A review from March 2021 titled 'Saved my life' says, "I bought this as a more "cooler gadget" to have….I was a complete skeptic and wondered if the airbag would ever deploy."
They then go on to describe how they then had an accident while riding in Central London and state, "The airbag deployed and although I have suffered other injuries, my head, face and neck felt like they bounced off a yoga ball. The airbag fully inflated within milliseconds. I could have suffered facial fractures, dental fractures, jaw fractures, and massive head injury, and worse still irreversible brain damage without this."
Currently the helmet is certified for use in the EU and that is their main target market currently so despite the 8x better claim, you'd find yourself at risk of breaching helmet laws if attempting to use one here in Australia.
Fall detection is not just for the elderly
The words 'fall detection' until fairly recently would most likely have related to a pendant device with a big red button designed for the frail and elderely but things have changed.
Apple Watches since generation 4 feature fall detection and there are many stories from cyclists who claim it has saved their life.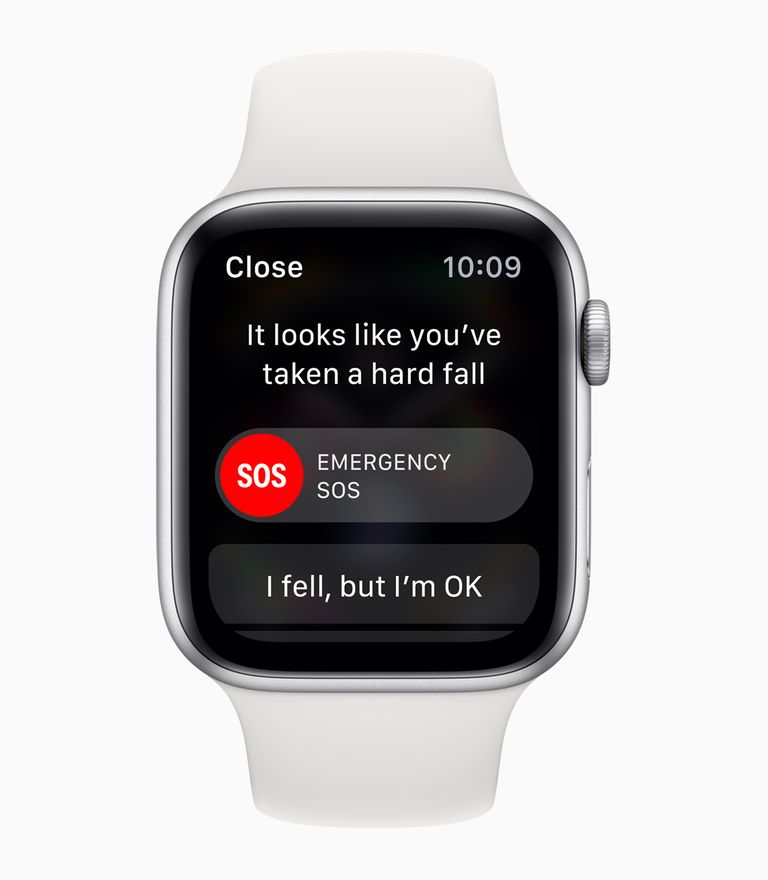 Back in 2019 a Facebook post by Gabe Burdett in the US went viral when he shared the story about his Dad whose Apple Watch detected a hard fall while mountain biking and notified his son that emergency services had been called. According to Gabe, his father didn't become conscious until after emergency services were with him. Gabe got a location update from the watch which showed the hospital he'd been taken to.
If the watch detects you've taken a hard fall it provides the option to call emergency services or confirm you are ok. If the watch gets no response and detects you are not moving then it will automatically call 000 after one minute a relay an automated message to say a hard fall has been detected and relay your location.
Once the call is done the watch then triggers alert messages to your emergency contacts to say a fall has been detected and emergency services have been called. It provides the emergency contact with your location so they know where you are.
If you've set up your Medical ID on your smartphone then it will even read out the details provided there to emergency services such as your health conditions, medical notes, allergies, blood type and so on.
As smart watches add more health related sensors such as blood oxygen level levels then it's likely the devices will be able to make ever more accurate assessments following an accident.
The wrap up (bubble wrap for safety of course)
It goes without saying that cycling is never going to be completely safe, but any innovation that makes a notable improvement to safety can only be a good thing.
While this article has focused on devices a cyclist would use or wear, it's worth noting that other innovations such as improved vehicle safety can also improve safety for cyclists.
Already the percentage of cars on the road with automatic emergency braking and blind spot warnings is increasing each year and further innovations such as car doors that warn car occupants they might door a cyclist are becoming more common on high end cars and should filter down.
As cycling safety accessories continue to get smarter and vehicles add further layers of accident prevention technology, it can only be hoped that the roads will become safer places for all road users including cyclists.